New Territory Voters vote on LID 7 flood protection projects on May 5!
Having attended LID 7 meetings on a regular basis since 2002, I have an understanding and a perspective of the issues facing New Territory, specifically river erosion and flood protection, that compels me to add my personal commentary to this article. The proposed bond referendum and five-member, elected board has my support.
New Territory voters will go to the polls May 5 to vote on a bond referendum that will either set critical LID 7 projects in motion or put them on hold for an indefinite amount of time.
According to information presented at a LID 7 open house on April 24, there are four major projects totaling an estimated $121.5 million that are needed to improve drainage and provide adequate flood protection against a Harvey-type storm, or worse. Although the board is actively applying for grants and seeking out possible funding sources for the projects, it is a competitive and lengthy process with no guaranteed outcomes, LID 7 consultants advise. To expedite the projects, the LID board wants to be able to sell bonds on a as-needed basis, they said. As grant monies start coming in, they would use them instead of selling more bonds, they said. The tax rate would increase about 11 cents for every $25 million of bonds that is sold, the financial consultant said. The LID 7 tax rate is currently 32.5 cents. "My goal is to keep the tax rate under 50 cents" said LID 7 Director Jim Grotte who is also running for a position on the LID 7 board in the May 5 election. LID tax rates in the Fort Bend area range from .111 to .690, according to a comparison chart presented at the open house.
Without authorized bond money on hand, the board would be limited to whatever funds that come in from outside sources, as they come in.
The four identified projects the LID seeks to complete for improved drainage and flood protection are:
1. The North Levee closure to protect from Brazos River floodwaters which can enter New Territory through the US 90A/Grand Parkway Underpass during high stage river events. This is expected to happen if river levels ever got to 59 feet (which would require a mandatory evacuation of New Territory as happened in Harvey), said a LID 7 engineer. The LID installed inflatable Tiger Dams along US 90-A during Harvey to keep water from entering New Territory from the North, although the river did not get above 55.2 feet in Richmond. The LID now proposes to close New Territory's U-shaped levee by building a four to six foot tall, concrete flood wall along US 90A, which would be behind the sound wall in those sections. Flood gates would be installed at all intersections, including High Meadows Drive, Cunningham Creek Blvd., Ellis Creek Blvd, Gateway Blvd. and the Grand Parkway. Projected construction costs for the North Levee closure is about $15,315,000. Personal Commentary: Tiger Dams , 18" diameter rubber tubes, are not fail-safe measures against flooding. The office of Fort Bend Emergency Management agrees. They will call a mandatory evacuation of New Territory if river levels are projected to reach 59 feet, even with tiger dams in place. There is some discussion that FEMA is also considering requiring homeowners in communities with u-shaped levees to carry flood insurance. Currently, flood insurance is optional and about $400 per home. Mandatory flood insurance is much more costly.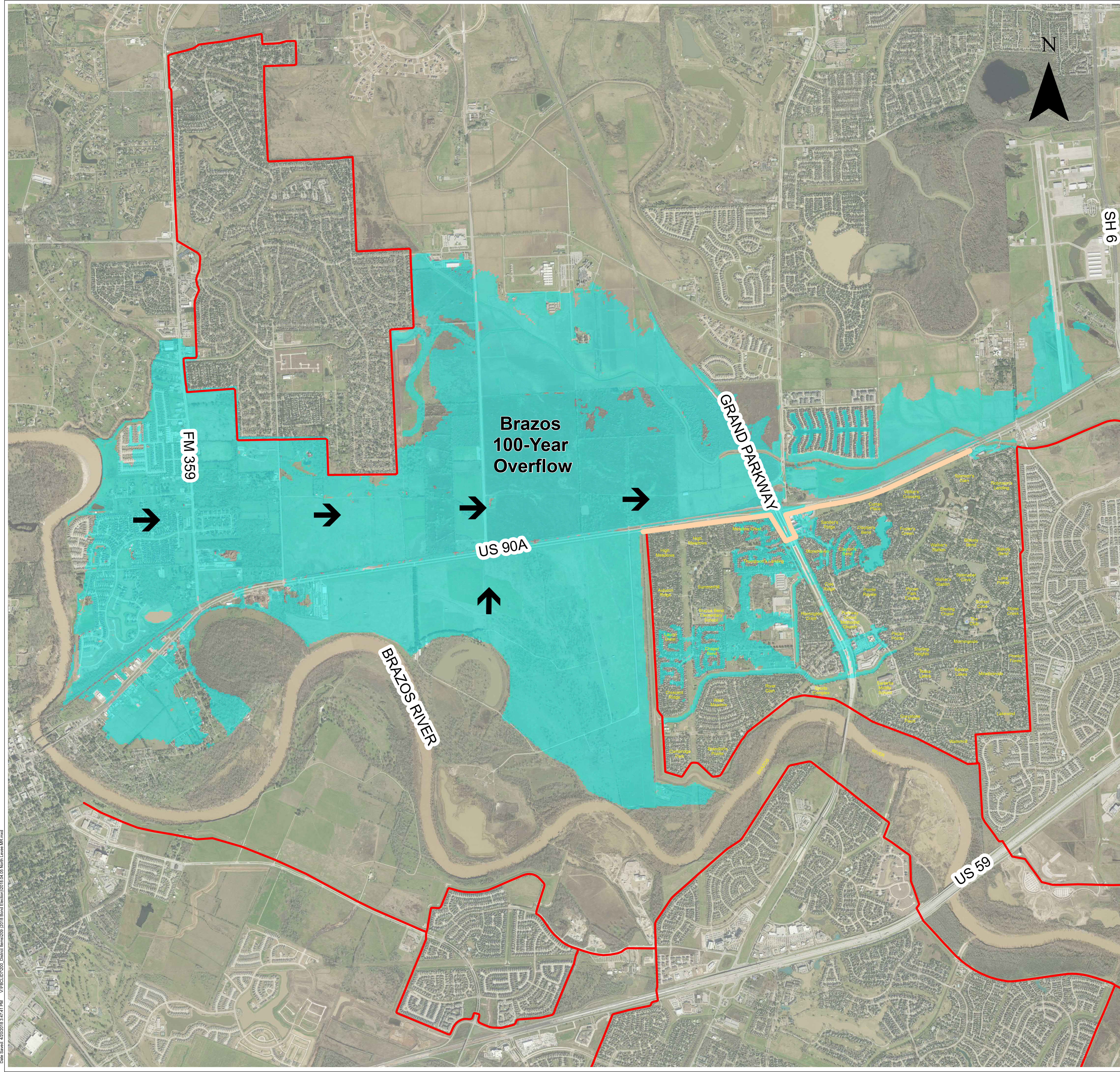 2. Pump station and detention improvements to protect New Territory from internal flooding that can happen in extreme rainfall events like Harvey. The proposal is to expand the capacity of the internal drainage system by building an additional pump station at the far west end of Ellis Creek to lower water levels in the drainage system at a faster rate. Once the river levels are higher than the Ellis Creek water levels, the flood gates are closed and the only way to move water out of New Territory is by pumping. Additional detention volume will provide more storage capacity within New Territory and decrease the Ellis Creek water levels during a storm event. The Sports Complex could be lowered in parts to create additional detention, they propose. Projected construction costs are about $6 million for a pump station and the additional detention. Personal Commentary: Internal flooding was the biggest threat to New Territory during Harvey, with Greystone Place, Watermill, Lakewind, and Crescent Ridge at most risk because of their lower elevations. While emergency pumps may provide some temporary relief in prolonged rainfall events, some areas would not benefit at all from them. There is simply no place to which the water can be pumped. Detention is the ultimate solution. Some propose to lower the levels in the neighborhood lakes to handle expected rainfall but it may not be feasible to accomplish in the case of a fast moving storm.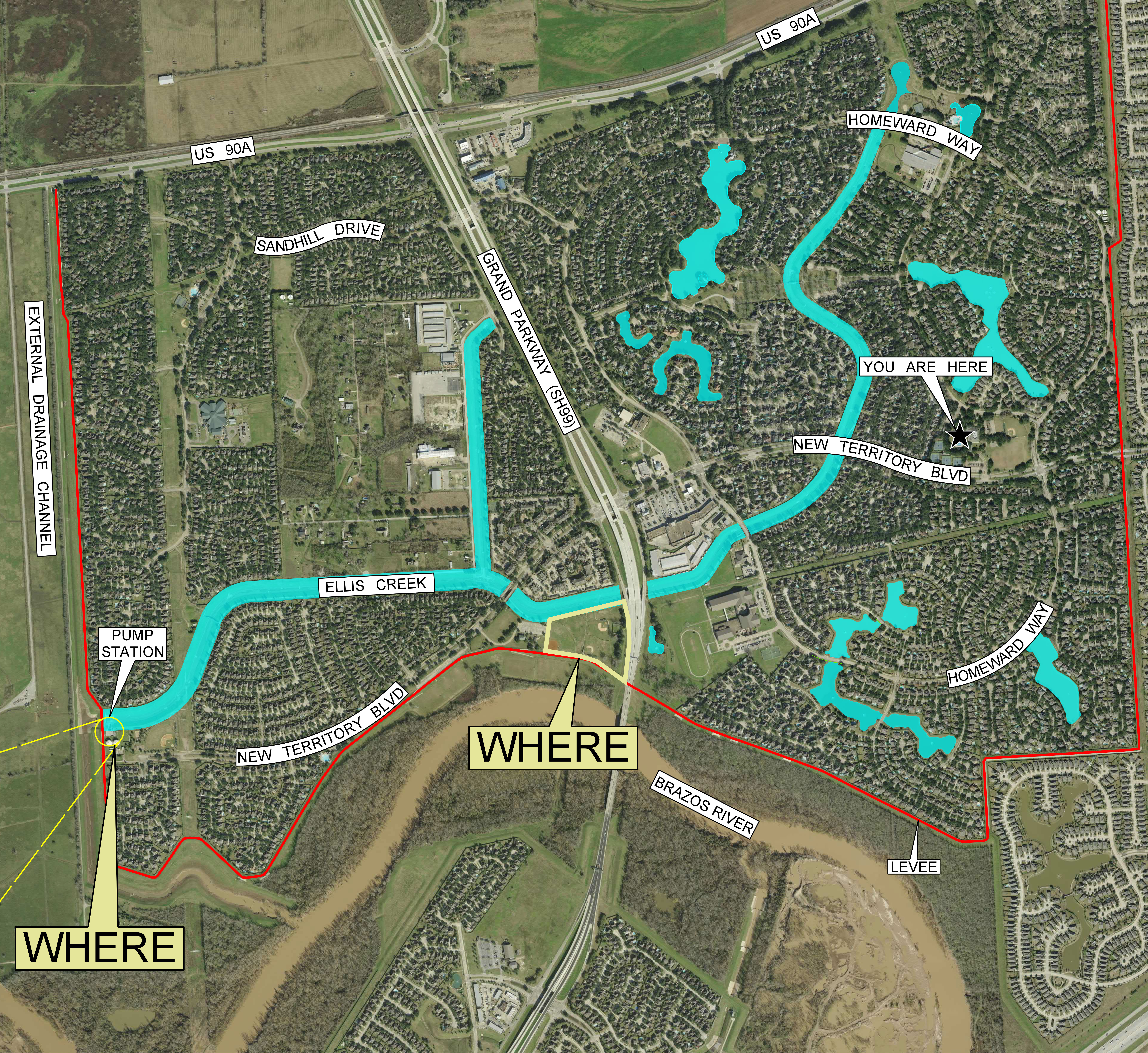 3. External Channel improvements to repair erosion that is threatening the adjacent levee. The external channel is the drainage infrastructure that conveys run-off from New Territory into the Brazos River at the far west end of the community. Erosion of the external channel, if left unchecked, could endanger the levee protecting New Territory. To alleviate the erosion of the channel, the engineers are proposing the use of natural channel design to reduce the water velocities. Projected construction costs are about $2.5 million.
4. Brazos River Control project to stabilize the river bank that is actively eroding and threatening the levee. River migration has caused significant erosion along more than 1,000 feet of bank behind the sports complex and Greystone Place in recent years. In some places, the bank has lost more than 100 feet, bringing the river even closer to the south levee. The river also threatens to swallow the NTRCA's soccer fields behind the levee at the sports complex. LID 7's engineers and consultants are recommending complex river training structures, engineered scour protection, and armored slopes to divert energy away from the outer bank, reduce scour potential, and prevent further bank erosion. Projected construction costs for the Brazos River project is about $55,230,000 and it is expected to take two years or more to complete. Personal Commentary: All experts agree that Brazos River erosion is the most serious problem that LID 7 and other local LIDs are facing. If the river bank is not stabilized and erosion is allowed to continue, the south levee could be in jeopardy, engineers say. Without a levee to protect the community, all 4601 homes would be at risk and flood insurance would be mandatory.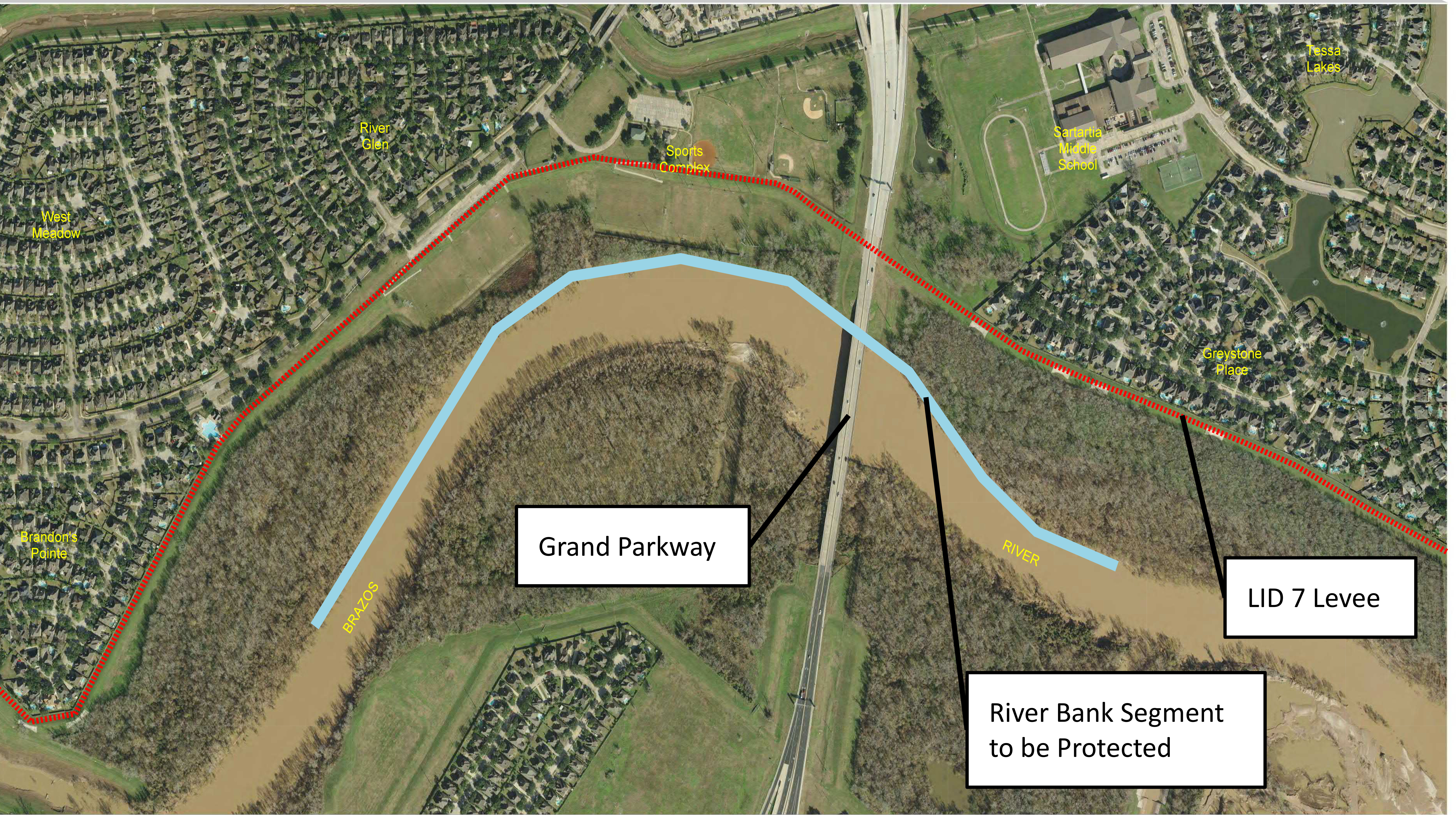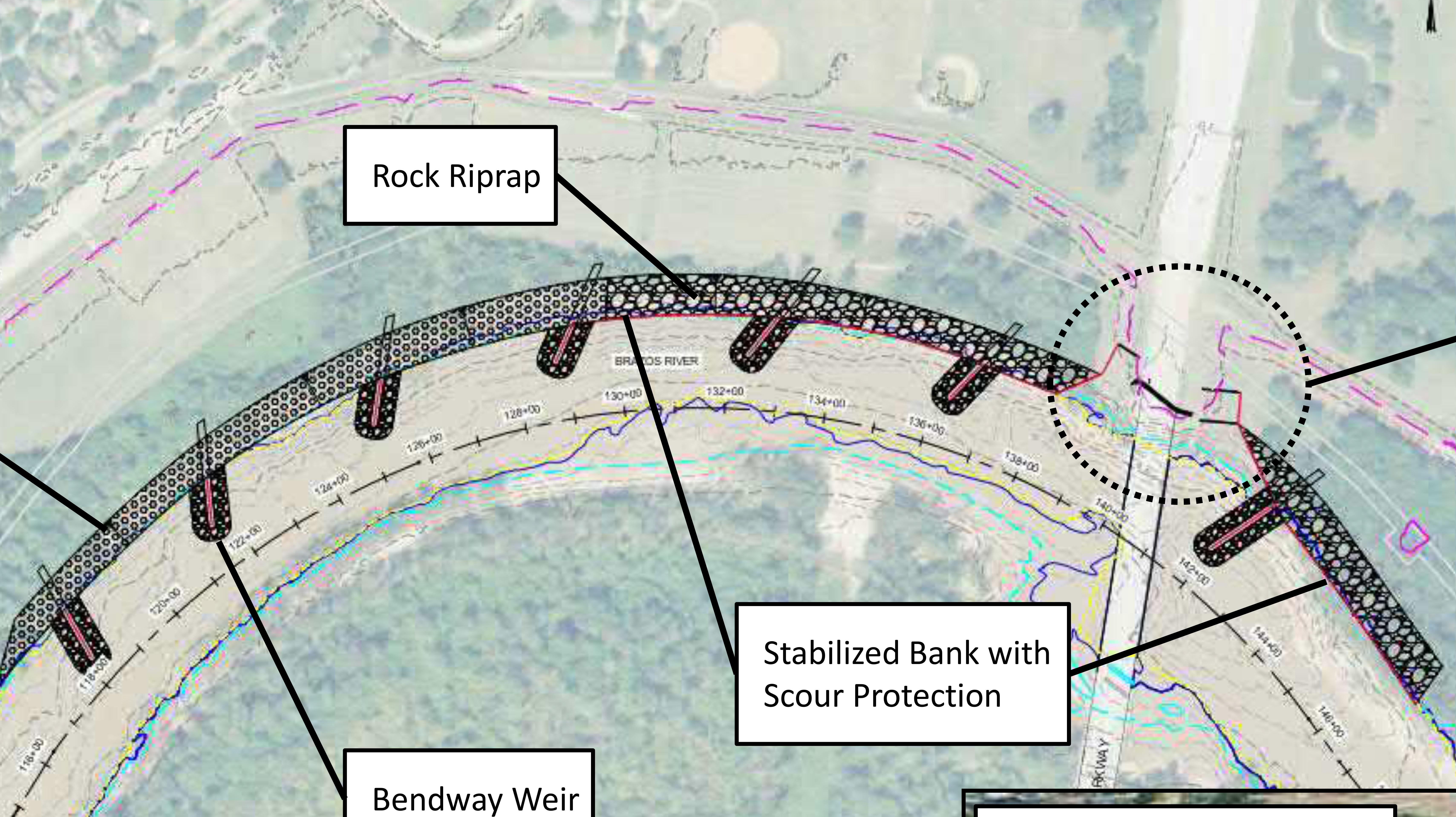 The May 5 bond election also includes a propostion to convert the 3 member, appointed LID board to a 5 member elected board. The proposition to convert the 3 member appointed board to a 5 member elected board was initiated by the NTRCA last year. "We wanted to increase the number of directors on the board so they could form committees and have discussions outside of meetings. With only three members on the board, they can never have even a conversation about LID business without doing so as a "majority" which is in violation of the Open Meetings Act," explained Executive Director for the NTRCA, Michael Walker.
Two of the original 12 candidates who filed an application, Ahsan Mukhtar and Steven R. Van Ingen, announced at the open house that they are no longer interested in running for a position and asked residents not to vote for them. It is too late to remove names from the Ballot. The other candidates are: Michael Pincomb and James Cryer for Precinct One; Adam Saleh, Cindy Picazo, and Richard Bielby for Precinct Two; Jeff Hanig, Louis Manuel, and Jonathon Beer for Precinct Three; James Grotte for Precinct Four, Gerald Kazmierczak, Victoria Foss, and James Rhys-Davies for Position 5.
Homeowners can only vote for the candidates in their precinct, which are as follows: Pct. 1: High Meadows, Meadowcrest, Thompsons Landing, Summerhill, Autumn Ridge, Laurel Crest, and Crescent Ridge.
Pct 2: Stonehaven, Wilkins Crossing, Sanders Ridge, Spencer's Glen, Robinsons Landing, Blakely Bend, Lake Pointe, Sunset Cove, and Stone Creek.
Pct 3: Preston Forest, Morningside, Meadowvale, Lakewind, Watermill, Tessa Lakes, Easton Lakes, half of Sterling Heights, and Greystone Place.
Pct. 4: Remington Crest, Chapel Bend, River Glen, West Meadow, Brandons Point, and Cambridge Park.
Pct. 5: Fosters Green, Walkers Station, Pecan Park Estates, Claytons Bend,Sterling Chase, Pointe Royale, Pecan Point, Cias Ridge, Spinnaker Cove, and half of Sterling Heights.
The election being held at the Randall's in New Territory.
If voters elect to convert the board from an appointed to an elected body, The LID will meet on May 15 to swear in the new directors
Visit LID 7's new website for more information: fbclid7.com